At ICPS, we design, test, manufacture, and maintain mechanical systems, developed on behalf of our clients.
We guarantee the quality of our products and their development cycles because we have our own means of production.
ICPS — EXPERT SUPPORT
Consult ICPS at the start of your project, so that our experts can discover what you need and better guide you.
We will advise you on your models, how to print them, and which materials are most appropriate. Your designs are thus optimized.
ICPS also creates prototypes.
If you already have a model, ICPS can help you with its speedy 3D printing capacities.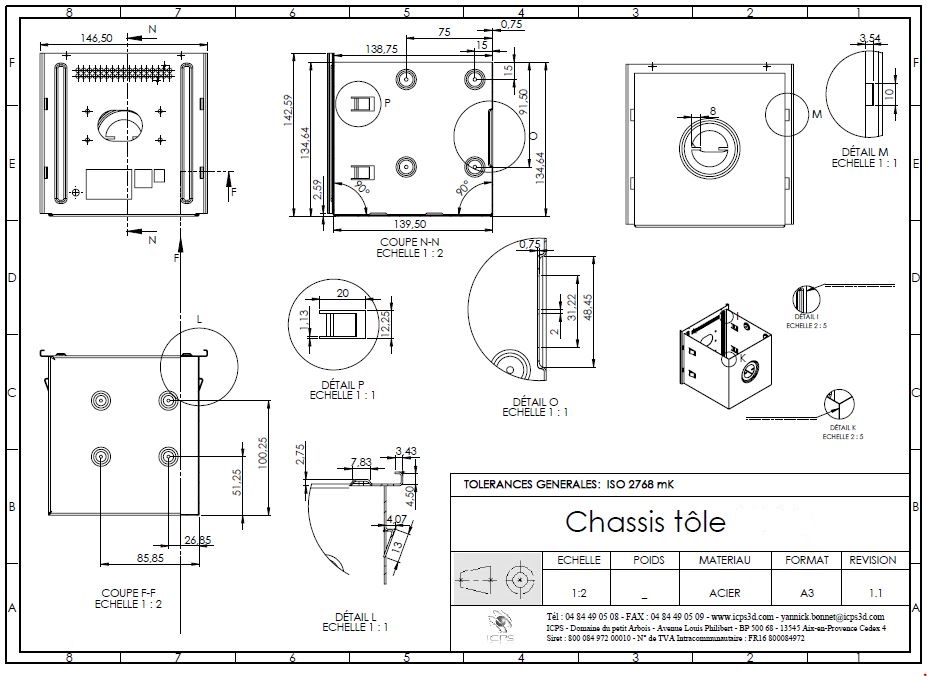 With our experience, we help you study, plan, and estimate the necessary
budget for your project and support you until its end.
We will bring to life your prototypes, small parts, tools, and models.
We specialise in 3D Printing services with high-quality materials, such as: 
TPU, PEEK, PEI (also called ULTEM), carbon fiber, graphite, Kevlar, FPE, polycarbonate, fibreglass, POM (also called DELRIN), PolyVyniliDene Fluoride (PVDF).
We can recommend which materials suit your needs because we are experienced in the different processes and technologies.
A Few examples of our work
Nuclear :
Technical assistance in R&D directly with our clients.
Special Machine:
Tailor-made production of units: automated assembly lines, sorting machines for agribusiness, test benches to verify mass-produced subsets… In these circumstances, we propose taking up the project from the beginning until the making of the machines, including their command and operation sections.
Medical :
Development of pre-diagnostic systems in cardiology; Creation of medical equipment on demand as well as various devices to help with patient care.
Internet of Things:
We focus mainly on protective casing. For example, using existing data, we combine electronics with plastic processing to make the product accessible to the general public. We also design and manufacture the first proof of concept and later on during the beta-testing phase alongside our end-users.
When to employ 3D?
To create prototypes, small parts, and models.
To have a realistic rendering.
To quickly obtain complex and functional parts.
Why 3D ?
To lower the costs and time of the manufacturing process.
To create personalized objects in smaller parts or individually.
To create mockups.
To quickly present prototypes that are realistic and functional.
To reduce the expenses of development.
To obtain ready-to-use objects as soon as they leave the printer.
To optimize your design, thanks to adjustments permissible by fast prototyping.
To manufacture really small objects.
To produce based on demand.
How to proceed in 3D ?
3D printing is achievable through digital files or through our 3D modeling of the client's files or through the scanning of the client's object.